How it works
The rate of flow water in a qanat is controlled by water table level ,so qanat cant make notable decrease in aquifer because its flow would fluctuate immediately by underground water table .qanat would be a sustainable system that provide water unlimitedly ,though the fundamental disadvantage of qanat would be a self -limiting feature compared to nowadays technologies
construction
Qanat is constructed by professional well-digger. a windlass is installed at the top of point which is dug few meters before ,then digging soil is hauled up in buckets. some amount of spoil is accumulated around the shaft and pressed not only to avoid cave-ins but also to keeps surfaces runoff away from shaft .a vertical shaft 1 meter in diameter is dug out ,a gently sloping tunnel is then constructed which transport s water from ground water wells to the surface some distance away at the end of lines of the wells ,if the soil is firm no lining is required for tunnel but in loose soil conditions reinforcing ring (as lining) are installed to avoid cave-ins .due to how many kilometer must be transferred, digging some wells at interval of 20 or 30m away and bottom of wells must be connected to each other then to groundwater, just like the below picture. its not necessary that all the wells are connected to ground resources but the deepest well must be connected to ground resources which is called mother well.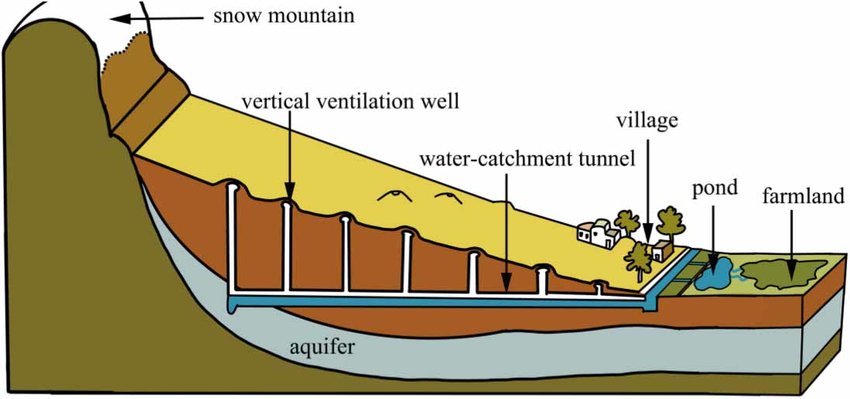 perform as cooling system
Qanat can be used as cooling system as well as water supply in desert area (thanks' to GOD Alamut Valley is located in mild temperate climate). a technology operating in relation with qanat is wind tower .The arid regions of country have fairly fixed seasonal wind patterns .the wind tower harnesses the prevailing summer winds in order to cool and circulate it through a building ,a typical wind tower resemble a chimney ,with one edge in building's basement and the other arises on the roof .such a technologies are related to millennium ago .
Qanat system has profound influence on the living system of human especially in desert .it would change the desert's inhabitant destiny to create a huge oasis & get by .
If you haven't red first part of qanat system yet you can click here